THE WHEEL
Basics of the Christ-Centered Spirit-Filled Life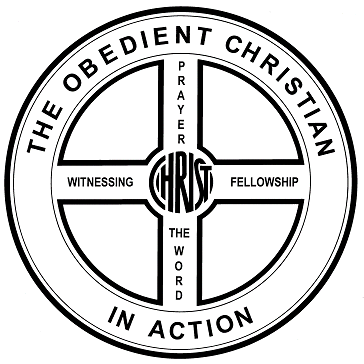 A - Live the New Life

Memory Verse

Version

Bible Study

Outline

Christ the Center

II Corinthians 5:17

RSV

Listen!

Galatians 2:20

RSV

Listen!

Obedience to Christ

Romans 12:1

RSV

Listen!

John 14:21

RSV

Listen!

God's Word

II Timothy 3:16

RSV

Listen!

Joshua 1:8

RSV

Listen!

Prayer

John 15:7

RSV

Listen!

Philippians 4:6-7

RSV

Listen!

Fellowship

Matthew 18:20

RSV

Listen!

Hebrews 10:24-25

RSV

Listen!

Witnessing

Matthew 4:19

RSV

Listen!

Romans 1:16

RSV

Listen!
LIVE THE NEW LIFE
The key to living a victorious, Spirit-filled Christian life is Jesus Christ as the Center and Lord of all we do. With Christ in control, life is balanced and effective. The Wheel illustrates this Christ-centered Spirit-filled life. Just as the driving force in a wheel comes from the hub; so the power to live the Christian life comes from Jesus Christ the Center. He lives in us in the Person of the Holy Spirit, whose expressed purpose is to glorify Christ.
The spokes show the means by which Christ's power becomes operative in our lives. We maintain personal contact with God through the vertical spokes - The Word and Prayer. The Word is our spiritual food as well as our sword for spiritual battle. It is the foundational spoke for effective Christian living. Opposite this is the spoke representing Prayer. Through Prayer we have direct communication with our heavenly Father and receive provision for our needs. As we pray we show our dependence upon and trust in Him.
The horizontal spokes concern our relationship to people-believers, through Christian fellowship; and unbelievers, through witnessing. Fellowship centered around the Lord Jesus Christ provides the mutual encouragement, admonition and stimulation we all need. The first three spokes prepare us for passing on to others all that we have received from the Lord. This is accomplished through Witnessing, sharing our own experience of Christ and declaring and explaining the Gospel, God's power to save.
The rim represents the Christian responding to Christ's Lordship through wholehearted, day-by-day Obedience to Him.
Topical Memory System
Hide God's Word in Your Heart
The Navigators
If you want to memorize Scripture, but aren't sure what to memorize or how, this is exactly what you need. This package includes memory verse cards in four different Bible versions—NIV, KJV, NASB, NKJV. Begin now to hide His word in your heart.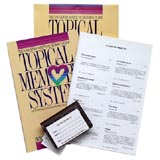 WHAT THE TOPICAL MEMORY SYSTEM WILL DO FOR YOU:
•Freedom from Anxiety: Memorizing and meditating on God's Word will help you overcome worry. You can experience God's perfect peace by having His promises written on your heart.
•Victory over Sin: God's Word hidden in your heart is the sword of the Spirit, available for battle at any time against sin and Satan.
•Confidence in Witnessing: One of the five series of verses in the Topical Memory System will give you a workable plan for sharing the gospel with others.
•Spiritual Fitness: Scripture memory will help you keep spiritually fit. You will experience immediate benefits and become better equipped to meet future needs and opportunities.

YOUR MEMORY IS GOOD
If you don't think so, consider all the information you know by heart-your address and phone number, all the people you know by name, details about your job, facts and figures about your favorite sport or hobby, and much more. You see, your memory is pretty good after all. Anything is easy to memorize when you really have an interest in it. Includes the 72 page Navigators Scripture Memory Course book, verse cards of four versions—KJV, NIV, NASB, NKJV—and a handy wallet to hold the cards currently being memorized.